Podcast: Download HD 320KB MP3
Podcast: Download (112.2MB)
At a time when most of the DJs I know were raving it down at the Garage Nation festival, I was holed up in the studio laying down fire for you guys. I now wish I'd rescheduled the show as I missed a fat day.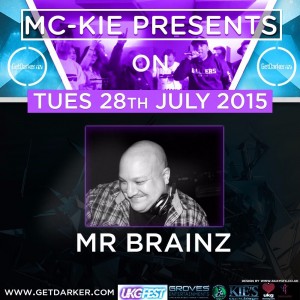 Nevertheless, huge show for you this week. Lots of fresh beats along with some modern classics dug from the virtual crate MP3 crate.
Don't forget, you can catch me on GetDarker TV for MC Kie Presents on 28th July 2015. I'll be laying down some new skool lengers for the garage crew as part of their new school lineup. Watch out for that one.
Until next time…
B
Track list
Nymbus – Flora
Bruises – Introduce Me To Your Friends
My Nu Leng – Pushed Feat. Detour City (Original Mix)
Toronto Is Broken – Sorrow (feat Amy Kirkpatrick)
Maj And Issa Strike – Royal (Synth Remix)
Marc Baigent & Element Z – Don't Need You (feat. Gee Martinez)
Dom Hz – Luv U (original mix)
Conducta – Smile
Moony – Deeper
Preditah ft. Yasmin – Supernaturally (Extended Mix)
Trinity Skys – Mountains (DJ Para Remix)
Leona Lewis – I Am (DEVolution Remix)
Andrea Mendez – Bring Me Love (Tone 2 Projekt Remix)
Beyonce – Crazy In Love (Todd Edwards Remix)
Wookie – Battle 2015
Blackboxx – Backchat
DJ Para – All My Heart
Jax Jones – Yeah Yeah Yeah (Mike Millrain Remix)
Wölfe – Wanting More '94
TRC – Oo Aa Ee (Royal-T I <3 Garage Remix) PVC - Grove St Nathan B-Line - The Sampler Deadbeat UK - Watchin Smokey 'Bubblin' B - Just For You London 8th Note - I'm Home Tuff Culture - You Got Me PVC - Put Em High G.W.M - Midnight TuffCulture - There's No Coming Back Ms Dynamite - Neva Soft (The Mike Delinquent Project remix) Kazumi Anzai - Short Circuit A2C - Sound Boy (original mix) DJ Q - Madness Hadean - Stompa (Pelikann remix) The Cuban Brothers - The Finding (Doorly Garage Rub) MJ Cole - Bouldaz (Original Mix) Orange Hill - Wine De Best (Zed Bias Old Skool UKG Dub) Vodex - Your Love Distro - East Side (Cellardore Beats Bootleg) Studio Cross & Dizz - Get Down Nina Wilde & Abeyance ft Faceless - Escape To Endor Radical DJ - See No Evil (Vocal Edit)